Shortly after it became clear that April 2011 broke the U.S. record for the most April tornados, the Washington Post reported that it was not a "legitimate" record … yet. That's because earlier years' counts are adjusted upward in an attempt to compensate for our increasing ability to detect tornados in the U.S. However, it didn't take long for April to shatter, not only the actual record of observed number of tornados, but the adjusted record as well.

I retrieved archived tornado data so I could count how many tornados were reported for each month from 1950 through 2007, then added counts for recent years to bring the record up to date. For the month of April only, I get this:
The preliminary count for April 2011 is 875 tornados, which is more than three times as many as the previous record of 267 back in 1974. Yeah, more than three times as many. This year's April count is only preliminary, and may well be revised downward as duplicate reports are identified. But it's still one hell of a hockey stick.
Even after the dust clears, this April is overwhelmingly likely to be a record-smasher. This is shown by a similar graph from NOAA which includes an "error range" to indicate possible final counts. Incidentally, my numbers seem to be the same as those in the NOAA graph except for 1971, for which the NOAA graph shows a higher count than I got:
Any way you slice it, it's still a hockey stick and 2011 will still be a new record.
Total tornados in April isn't the only record broken this year. According to NOAA reports of 2011 tornado information, this April also broke the record for most tornados in any month, the previous record being 542 in May 2003 (May is the most active month for tornados in the U.S.). An unfortunate record-tie happened on May 22nd, when a tornado hit Joplin, MO, killing 116 (by latest count) and tying the record as the deadliest single tornado to strike the U.S. since modern recordkeeping began in 1950. But the actual deadliest single tornado on record was on March 18, 1925, an F5 twister which covered a path 291 miles long and killed 695. Also, the death toll from tornados so far this year (estimated at 481) is the highest ever through May in the NOAA-NWS official record (starting in 1950).
It's especially disturbing because tornado deaths in the U.S. have trended downward: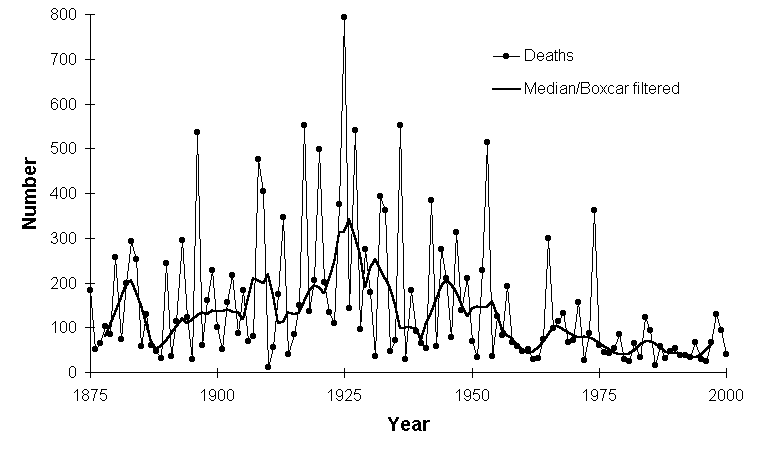 The decline is even more pronounced when adjusted for population increase to give fatalities per capita: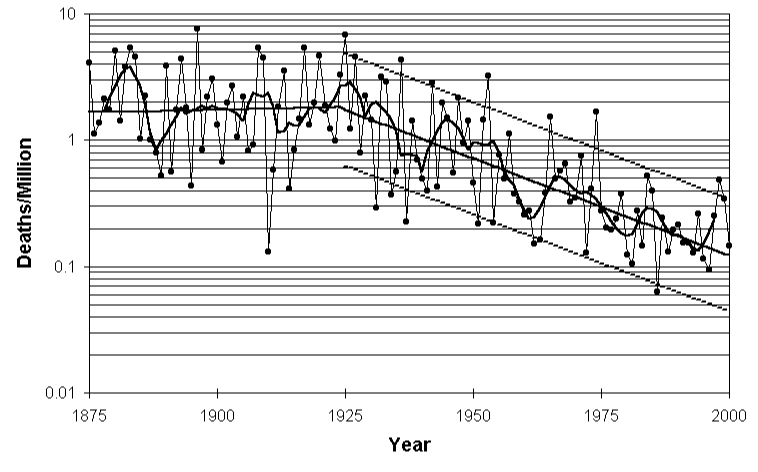 The decline is almost certainly due to improved early detection and warning, giving people enough time to take protective measures. But this year has been especially deadly.
Let's hope this is just a freak event. But let's not count on it.
Although none of this year's tornados has come with a label tag saying "caused by global warming," and many have dismissed any thought that there could be a connection between man-made climate change and the recent onslaught of tornados, the statistics alone scream that this year isn't like what we've seen before. Ever. The connection with global warming is at least plausible, and is certainly evidence that man-made climate change can have deadly consequences. It's foolish to dismiss the possibility.
2011 is already the "year of the twister," and it isn't over yet. It also follows hard upon an onslaught of extreme weather events over the last year. Heat waves, floods, droughts, storms, wildfires, have inflicted heavy casualties around the globe, and the U.S. has not been immune to the plague. It's long past time that we should take global warming seriously, not just as a scientific fact but as a genuine threat to health and safety. Forewarned is forearmed — unless the warning is ignored.